Washington, D.C, 7 January 2021 - I hope that we have passed a critical point in our relations with the United States, where Serbia has confirmed itself as a constructive international factor, a responsible state, a guardian of regional stability and a growing economy - said Serbian Ambassador to the United States Marko Djuric
Could the change of the US administration shake relations between Belgrade and Washington, which had taken an upward path in recent months, how will Biden's victory reflect on the Kosovo issue, what is happening with the Washington agreement and how will friendly ties and cooperation between Serbia and the US be strengthened? We spoke about these and other current topics with the ambassador of Serbia to the United States Marko Djuric who, in an interview with Telegraf.rs, summarized the year behind us and revealed the plans for the coming period.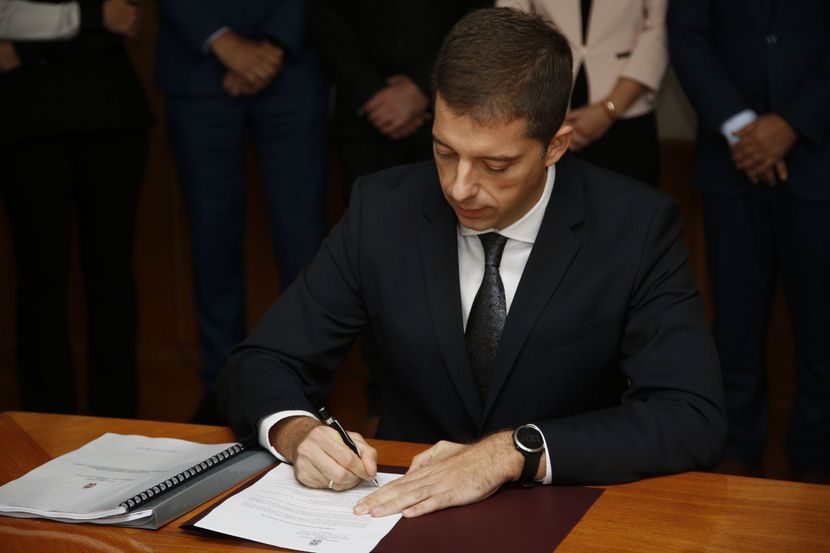 A turbulent year is behind us marked by the fight against the virus, but also some important political events. From elections in Serbia, your transition to diplomacy, the signing of the Washington agreement between Belgrade and Pristina, to the continuation of the dialogue… what left the greatest impression on you?
The coronavirus pandemic is an event that not only marked the previous year, but already has unforeseeable economic and political consequences at the global level. Compared to that event, all particular problems seem unimportant, because all countries in the world have switched to crisis management mode, trying to save what can be saved and trying to preserve the basis for continued functioning in the time after coronavirus. Of course, life did not stop anywhere and we all continued to deal with the problems we had before, but all serious countries focused their forces and resources on facing this one key challenge, focusing on the health of their citizens and the economy. The pandemic has even led to a drop in intensity and frequency of diplomatic communications, because online virtual conferences, however useful as a replacement, cannot be a valid substitute for physical contact between interlocutors.
• It is known that during Trump's mandate, America changed its attitude towards Serbia, especially on the Kosovo issue - from the 2008 position that it was a resolved issue, it came to listening to what Belgrade has to say. Can that change after Biden's victory?
I hope that we have passed one critical point in our relations with the United States, in which Serbia has confirmed itself as a constructive international factor, a responsible state, a guardian of regional stability and a growing economy. It 's known that in the US political communication there are pejorative terms like"'rogue" or "failed" state. Fortunately, Serbia has never been so low on the American political totem pole. However, in the not-so-distant past, parts of the administration here showed pronounced distancing and distrust, and I believe that this kind of sentiment no longer exists, at least not as the political mainstream. That is the point we have crossed, after which we have a real chance to raise our bilateral relations to perhaps the highest level in history. I also believe that good relations between President Aleksandar Vucic and Donald Trump and Joseph Biden are an excellent starting point for further improvement of cooperation.
• In what way will you work on strengthening bilateral relations between Belgrade and Washington?
Serbian diplomacy has often been reactive in the past, and the trouble is that it showed the least initiative in some of the most difficult and challenging moments in our history. It's necessary to introduce innovations in diplomatic practice, especially in the countries with which we have open issues or a need to significantly improve the reputation of Serbia and the Serb people. In that sense, I will try to have as frequent contacts as possible with representatives of the US administration, from whom I expect to listen to our views and arguments. In the past, we'd too often "shrink like Calimero" as some others would be showing initiative in the world's centers of power, while we acted as if it that was our fate and not something that can be countered at the diplomatic level. Serbian diplomacy must be more aggressive and convincing in its performance, especially when arguments are on our side. We have a long history of friendly relations and alliances with the United States, but also declines in bilateral relations in recent history. It's necessary to put things back to their right and natural place, so that our two countries open a new page of sincerely friendly relations, understanding and mutually beneficial cooperation.
• The Washington agreement on economic cooperation represents a big step forward in the relationship between Belgrade and Pristina, but what about its implementation? Can the change in the US administration affect that and do you think that Pristina will fulfill what is expected of it?
It didn't go that easy with the Brussels agreement. The need to relax relations between Belgrade and Pristina through better economic cooperation and removal of unnecessary trade barriers is one aspect of the Washington agreement. On the other hand, for us, it was, above all, an opportunity to improve relations with the United States, and to enter a new era of Serbian-American cooperation, and it will, I believe, continue, because Belgrade has shown and proved its commitment to a stable and a prosperous region. I think that it is in the interest of Pristina to sincerely choose this type of warming of relations, but we will have to get the answers to your question first of all from the temporary institutions of self-government in Pristina. The dialogue process between Belgrade and Pristina is conducted under the auspices of the EU, but the United States has never been on the margins of that process, and I expect Washington to remain interested in the situation in Kosovo and Metohija.
• The end of 2020 was marked by statements coming from Eliot Engel and former Secretary of State Madeleine Albright, who said that if Serbia wants to join the EU, it must recognize Kosovo. How much weight do their statements carry and can they influence the relationship our country has with the new US administration?
These are two voices in the US political establishment, and it would not be serious to say that these are two voices that are not heard, regardless of their formal political functions.. Both Mr. Engel and Ms. Albright have their reasons for taking a stance on Kosovo and Metohija, but our job is to, if we can't influence their positions, find representatives in the US administration who will have better understanding for the Serbian position. We shouldn't hope or expect that the United States will radically change its position on the issue of the unilaterally declared independence of Kosovo, but we can fight in favor of the idea of the need to reach compromise solutions gaining greater support in the US administration.
• Some politicians' names have appeared in the Biden administration who did not hold favorable views towards the Serbs in the 1990s? Should that worry us today?
In the past two decades, no influential politician has appeared in the United States who recommended that Washington deny its support to Pristina and return things to the situation before 1999 or 2008. That is why we should not expect any major changes in US politics. The range of possible solutions, however, is very wide, and we must work to ensure that solutions that do not seem possible today are one day achievable. Above all, we hope there is support for the idea that the Serb and the Albanian people in the Western Balkans should not be antagonists, but cooperate in building a prosperous and democratic values-based region. If that coincides with US interests, I believe that goal is not unrealistic.
At the end of the conversation, Marko Djuric congratulated the holidays to our readers and to citizens of Serbia, the holidays which he celebrated for the first time this year far away from his country.
I wish the readers of the Telegraf portal a merry and blessed Christmas. This Christmas, the importance of harmony in our house called Serbia is clearer than ever, and we can do anything if we united. Christ is born! Indeed, he is born!
(Telegraf.rs)