It is my pleasure to address you, dear visitors, as a newly appointed Ambassador of the Republic of Serbia in the United States.
I was born in Subotica, multicultural, multiethnic and multilingual city in Northern Serbia. In 1971 I moved to the Serbian capital Belgrade where I completed high school. I graduated from the University of Belgrade, the Law Faculty with major in International Relations and was already very interested in the field of diplomacy. I entered the foreign service in 1981 and since then held a number of positions at home and abroad. I served as Deputy Chief of Mission at the Embassy of the FR of Yugoslavia in Budapest, Hungary, First Counselor at the Embassy of Serbia in Washington, D.C., Chief of Protocol and Director of the Department for North and South America at the Ministry of Foreign Affairs of Serbia, while my latest position was Foreign Policy Advisor to the current Prime Minister of Serbia, H.E. Mr. Aleksandar Vucic.
During my four year tenure the focus of my mission will be on two core goals: strengthening of our overall bilateral relations with the US and reinvigorating Serbia's ties with its diaspora. While recognizing the importance of taking further steps in all segments of the Serbia-US relations, particular attention will be devoted to our economic cooperation, which both sides recognized as a field of common interest and one in which significant progress can be achieved. Our strong historic ties that date back to 1881, friendship and alliance in the world wars constitute pillars for our future cooperation. Serbia-US relations are on the rise and there are numerous opportunities to be taken advantage of.
The website of the Embassy of Serbia in Washington D.C. is intended to serve as a source of information and news on the latest developments in Serbia-US relations, our activities in the US and the consular issues. I hope you will find it useful. We look forward to your involvement also on Twitter and Facebook. If you have any questions or comments, please feel free to contact us. Your valuable feedback will help us improve our work and our service.
Sincerely yours,
Djerdj Matkovic
Ambassador of Serbia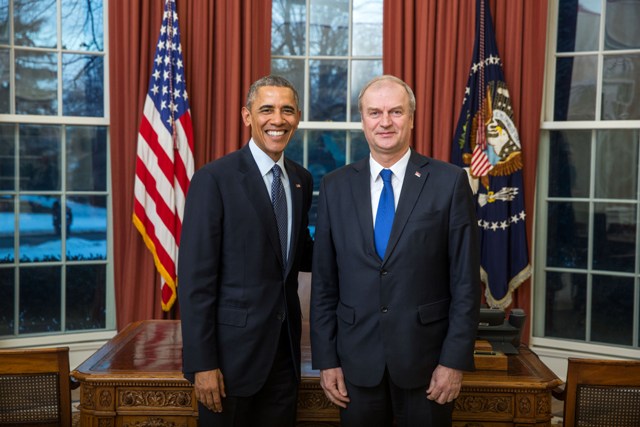 Ambassador Extraordinary and Plenipotentiary of the Republic of Serbia to the United States H.E. Djerdj Matkovic presented his credentials on February 23, 2015 to the President of the United States H.E. Barack Obama.