Belgrade, 9 June 2022
Prime Minister Ana Brnabic expressed her gratitude last night, on the occasion of marking the 20th anniversary of the American Chamber of Commerce in Serbia (AmCham), for the continuous support of this business association for the development of economy and entrepreneurship in Serbia.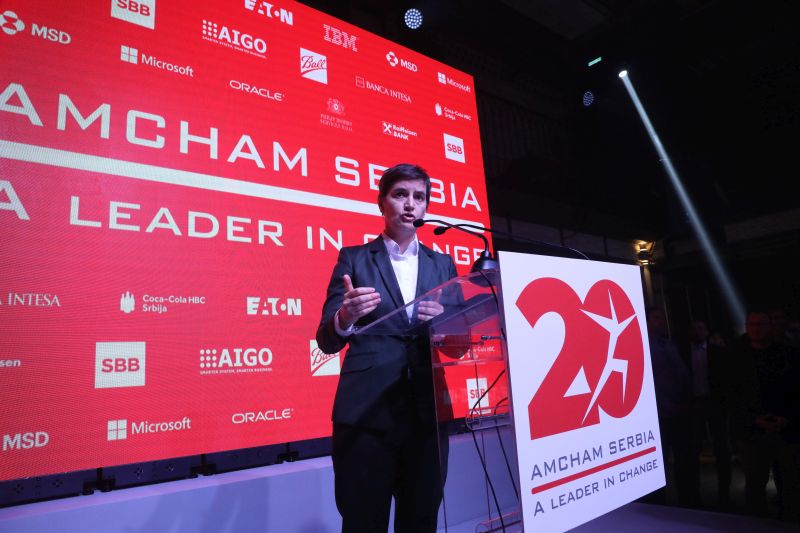 At the ceremony, Brnabic especially pointed out the good results achieved in the trade exchange with the United States last year, as well as the American support for the "Open Balkans" initiative.
She underlined that during all 20 years of its work, AmCham has been a strong and reliable partner of the government in creating a better business environment in Serbia, which has greatly contributed to our country becoming one of the world leaders in attracting foreign investment.
The Prime Minister pointed out that AmCham is also responsible for Serbia's progress in the area of rule of law and independence of the judiciary, so that the economy would have security and safety.
Together, we changed Serbia and invested in its most important and strongest potentials – intelligence and creativity, and we did that through reforms in education, through investments in young entrepreneurs, startups and innovation companies, Brnabic reminded.
She emphasised that American companies, such as NCR, Microsoft, Oracle, Philip Morris and many others, but also the American administration through the US Embassy in Serbia and organisations such as USAID, believed that Serbia it is not a country of cheap labour, but a country of intelligence, talent, innovative and creative people.
According to her, in 2021, the export of goods from Serbia to the United States reached the value of €435.9 million and increased by 35.5 percent compared to 2020, while imports amounted to €408.7 million, with growth of 4.7 percent compared to last year.
The Prime Minister also referred to the excellent results when it comes to the export of services from Serbia to the United States in 2021, stating that it amounted to more than a billion dollars or €870 million, which is twice as much as the export of goods.She mentioned that we also have a significant surplus on our side in the amount of €562 million.
According to her, that shows that the relations between the two countries are developing in the best possible way, with mutual respect and appreciation, and as the next steps in this cooperation she announced investment in the field of artificial intelligence and biotechnology and biomedicine.