Belgrade/Berlin, 28 Aug 2014 – First Deputy Prime Minister and Minister of Foreign Affairs Ivica Dacic said today in Berlin to the Western Balkan region is a region of peace and stability, adding that it expects to soon join the European Union.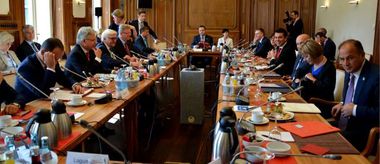 At a conference on the Western Balkans within a ministerial panel on "Economic Management and Joining the EU", Dacic in his address expressed gratitude to the government of the Federal Republic of Germany and Minister for Foreign Affairs Frank-Walter Steinmeier on the initiative and his personal commitment to ensure that these conference be held.

The First Deputy Prime Minister pointed out that the new approach to the EU, in accordance with which chapters 23 and 24, relating to the rule of law and fight against corruption, should be opened at the beginning of the negotiation process, in the best interest of the candidate countries.

He said that European integration is the most effective and quickest way to achieve high standards in these areas, which are crucial for the overall development of the state and society and for ensuring economic growth and social prosperity.

According to Dacic, Serbia's priority is the rule of law, as a prerequisite for attracting foreign investments and activation of small and medium enterprises in the country.

He recalled the 2013 Judicial Reform Strategy and the Strategy for the Fight against Corruption, which specifies in detail all the measures and timetable for implementation.

He emphasised bilateral assistance and support of Germany in this field.

The First Deputy Prime Minister said that efforts should be made to improve the regulatory framework and law enforcement, as well as to build a culture that has zero tolerance towards corruption.

Dacic said Serbia does not expect the EU to lower its criteria for membership.

We consider that it is significant every country moves towards the EU at its own pace, said Dacic.