Belgrade, 28 April 2014 – Prime Minister Aleksandar Vucic said today that Serbia will be the first country in this part of Europe to launch talks on chapters 23 and 24, related to the rule of law, as soon as next year.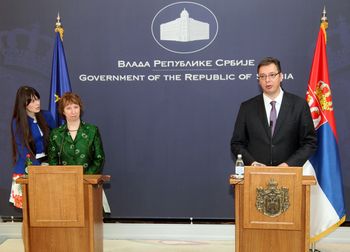 Vucic expressed the hope at a news conference after a meeting with EU High Representative for Foreign Affairs and Security Policy Catherine Ashton that our country will receive assistance from the EU in this process, as promised by Ashton today.
The arrival of the EU High Representative to Belgrade on the first day after the formation of the new government of Serbia is a great honour and a good sign for our country, he said and expressed his appreciation for such an act, but also for everything that Ashton has done for Serbia.

Vucic said that a great deal of merit goes to Ashton for the fact that Serbia is on its path towards EU membership and for the acceptance of the Brussels agreement, noting that she, more than many others in the Union, wanted to hear Serbian views, comments and needs.

The Prime Minister pointed out that the opening of chapters 23 and 24 next year will be a clear sign that we want to bring order into our country and its legal system, so that citizens do not have to wait 25 years for court judgments and so that they could know that justice is attainable.

According to Vucic, the rule of law is one of the important things that will boost investments, considering the fact that investors come only to the countries with good legal systems.

Vucic said that he expects that Serbia will sign an agreement with the International Monetary Fund (IMF) in June at the latest, and added that the agreement with the World Bank (WB) has already been made.
Big challenges are ahead of Serbia and that is why it needs help in the process of real reforms, the Prime Minister declared and underlined that our country expects from the EU the assistance in the training of people, as confirmed by Ashton today.

Also, he assessed that there is a chance for Serbia to become a full member of the EU by 2020 and reiterated that that is the goal to be reached for the sake of our country and internal reforms, which should be completed by 2018.

Vucic said that as prime minister he will lead dialogue with Pristina, adding that First Deputy Prime Minister Ivica Dacic will participate in that process, as well as other Serbian officials.

Ashton congratulated Vucic and the new government and said that she is glad to have come on this special visit to Belgrade, as she put it.

Ashton said that she discussed very important issues with Serbian President Tomislav Nikolic and Vucic, mostly economic ones – the importance of economic development, reforms that will be tough, but that are necessary to carry out in order to ensure a better life for citizens and the country's strong economic future.

I hope that one of the benefits of your relationship with the EU is to send the strongest possible message to investors, to markets, to institutions that coming to Serbia, investing here is a good thing; it is good for business, it is good for the people, she said.

The EU is determined to help and support Serbia in its efforts to ensure a strong economic path, she said.

She commended Prime Minister Vucic's resolve to make the fields of law and order a priority, and awareness about the importance of an education reform.

Becoming a full member of the EU is not an easy process, as any country that has already made the journey will tell you, but it is a journey that none of them ever will regret, she said.

By being part of the European family, you have peace and security guaranteed, Ashton said, adding that peace, security and economic stability are the key words that enable people to feel that they can look to the future.