Belgrade, 10 Dec 2013 – Prime Minister Ivica Dacic and Director of the Office of South -Central European Affairs of the US State Department Jonathan Moore pointed out in a meeting today that the United States supports Serbia's European path and reforms undertaken by the government of Serbia.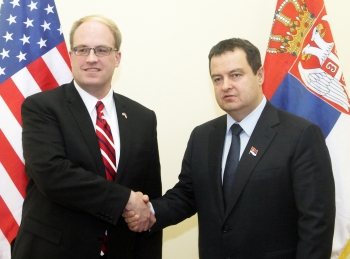 Dacic and Moore emphasised that dialogue between Belgrade and the provisional institutions of government in Pristina and the implementation of the agreement reached in Brussels have a positive impact on stabilisation of the situation in the region, and that local elections in Kosovo were well organised.
The Prime Minister stressed the commitment of the government of Serbia that all outstanding issues be resolved efficiently and in a timely manner.

He expressed confidence that the intergovernmental conference on Serbia's EU accession will be held as soon as possible, i.e. no later than January next year, given that the government has adopted all the necessary documents for negotiations.

Dacic said that Serbia's interest is to promote political dialogue and enhance economic cooperation with the United States.