He said that Microsoft is a true partner of Serbia, which supports our efforts in developing the IT industry and participates in the increase of digital literacy and intellectual property protection.

Ballmer said that Microsoft is very dedicated to making quality performance of different activities with the help of a large number of devices and services that are designed for households and businesses around the world.

He said that this same commitment applies to the business operation of Microsoft in Serbia, where new partnerships are created and where new technologies in the Microsoft Development Centre are developed, whose solutions are used by millions of people around the world.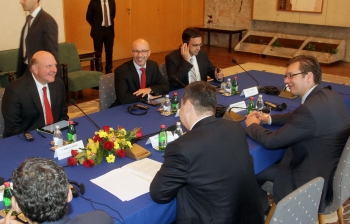 We are facing great opportunities and we are excited because we can make these benefits available to people and businesses in Serbia, said Ballmer.
At a meeting with government officials and members of the National Council for the Economic Recovery it has been estimated that the global IT industry records an approximately 60% faster growth compared to the rest of the economy.

In Serbia the IT sector outperforms the rest of the economy by approximately 200%, which indicates the potential of this sector of the Serbian economy.

Distinctive features of Serbia in the IT sector are the professional staff , good infrastructure, strategic location and government support to the development of this industry.

Microsoft in 200 opened its development centre in Belgrade, which was one of the first ones in this part of Europe.

The development centre currently employs more than 150 professional and ambitious young people from Serbia.

In addition, Microsoft actively supports local users through a highly developed network of more than 1,000 partners across the country.