Belgrade, 16 Oct 2013 – Prime Minister Ivica Dacic stated that the Report on Serbia's progress towards the EU which he received today from Head of the EU Delegation to Serbia Michael Davenport is one the most favourable so far and expressed his hope that the EU accession talks will start in January at the latest.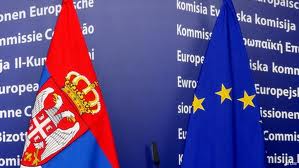 After the meeting with Davenport at the Palace of Serbia, Dacic said that he is satisfied with the grade received and that Serbia will continue with the reforms launched, including dialogue with Pristina.

He announced the holding of the first session of the Council for Implementation of the Stabilisation and Association Agreement on 21 October in Luxembourg, to be chaired by EU High Representative for Foreign Affairs and Security Policy Catherine Ashton.

Catherine Ashton is doing us a great honour since it is not customary for her to chair those sessions, the Prime Minister stated and confirmed his attendance.

He reiterated that Serbia expects the European Commission and European Council to give a positive opinion of the holding of the intergovernmental conference, i.e. for the official start of negotiations.

Serbia's aim is to use negotiations with the EU as an encouragement for reforms, Dacic said and underlined that Serbia's interest is not only to become a member of the EU, but that Europe comes to Serbia with its criteria and values.

According to Dacic, Serbia will continue to work on the fulfilment of criteria and the necessary internal reforms, will consider the existing objections, carry on with dialogue with Pristina and with efforts at stabilising the situation in the region.

He described as essentially important an evaluation made in the Report that relations between Serbia and the EU have entered a new phase, that progress has been achieved in the quality of reforms in Serbia and when it comes to stability and cooperation in the region and dialogue with Pristina.

As we have announced, our goal is to use EU accession talks as a great boost to the reforms and changes in Serbia so that our country would fulfil criteria not only formally, but as a basis and purpose of the overall transformation of society, Dacic underlined and noted that for that reason these days, months and years are of historic importance for Serbia.