3 June 2021
Prime Minister Ana Brnabic spoke today with Special Representative for the Western Balkans and Deputy Assistant Secretary at the US Department of State Matthew Palmer about the state of bilateral relations, the continuation of Belgrade-Pristina dialogue, the relations in the Western Balkans region and the economic cooperation between the two countries.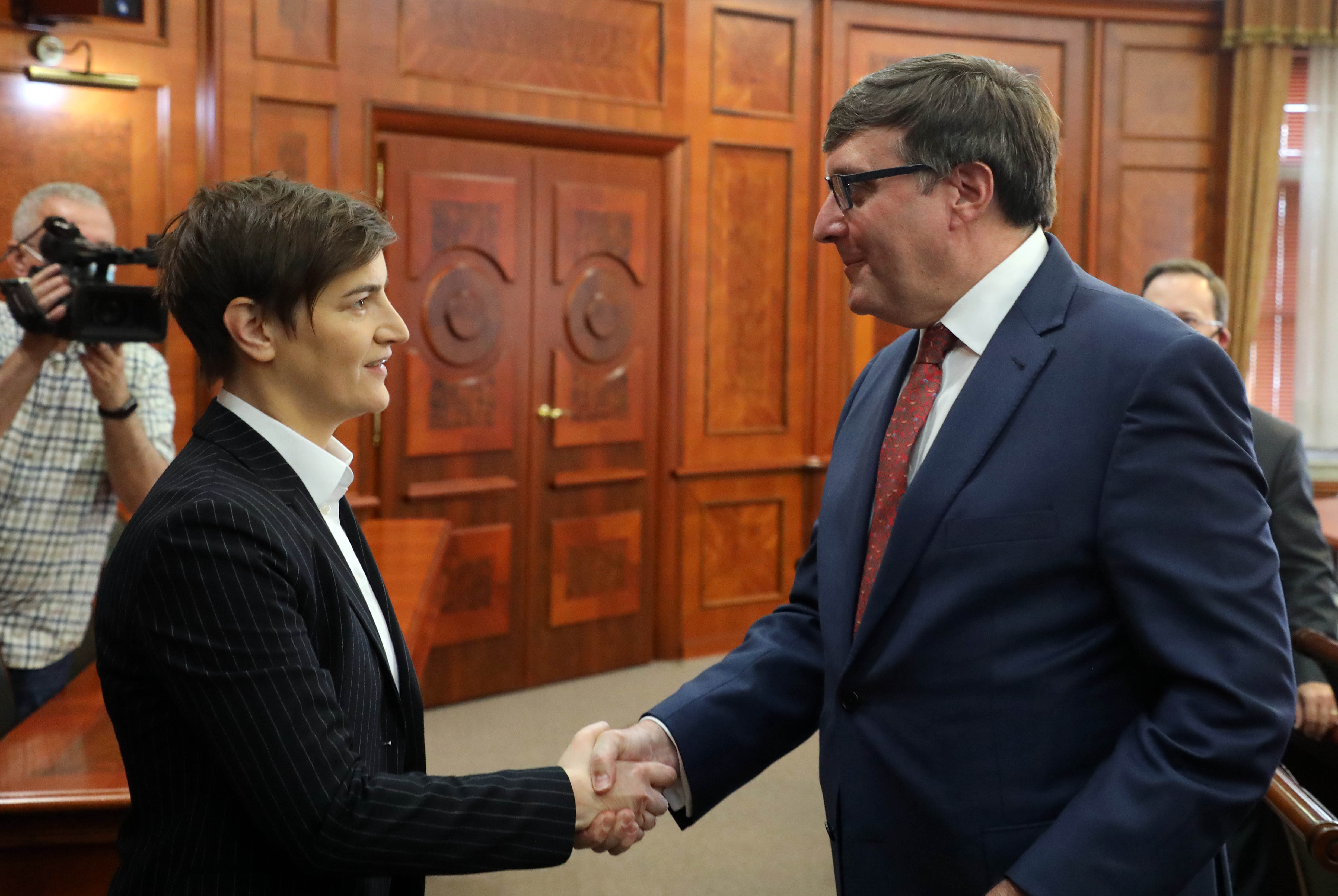 The meeting was also attended by US Ambassador to Serbia Anthony Godfrey.
Brnabic pointed out that one of Serbia's foreign policy priorities is the improvement of all areas of cooperation and more intensive bilateral relations with the United States.
Our interest is to intensify the political dialogue and visits at the highest level, and I hope that this year we will have the opportunity to mark the 140th anniversary of the establishment of diplomatic relations, the Prime Minister said.

Brnabic pointed out that the dialogue with the temporary institutions in Pristina is in the focus of the government, but that it is necessary to implement the things that were previously agreed within the dialogue, primarily to establish the Community of Serb Municipalities.
Belgrade has fulfilled all its obligations and we expect to see that from the other side as well, so that the dialogue makes sense.
One of them is the issue of finding and identifying missing persons, and we are fully committed to a complete solution to that issue, said the Prime Minister.
Palmer pointed out that the United States strongly supports the dialogue conducted under the auspices of the EU and the role of EU Special Envoy Miroslav Lajcak, and praised the commitment of Belgrade and President Aleksandar Vucic to the talks with Pristina.
Belgrade will continue to advocate achieving a sustainable compromise in the dialogue with Pristina, while protecting the interests of the Serbs there, as well as preserving the state and national interests of our country, the Prime Minister pointed out.
Brnabic and Palmer also discussed the overall regional situation and agreed that peace and stability in the Western Balkans are essential for the political and economic progress of the entire region.
Palmer underlined that one of the priority interests of the United States is the stability and security of the Western Balkans, and praised Serbia's role in regional initiatives, which will significantly raise the quality of life of all citizens in the region, but also further improve regional empowerment.
It was also pointed out that the focus of US activities in Serbia will be on investments in infrastructure and investments in renewable energy sources.
Palmer also highlighted the need to ensure that the media environment allows different opinions to be heard.
Source: www.srbija.gov.rs
Photo: www.srbija.gov.rs